Most Recent Eclipse Cycle that We are Currently Under:
--August 11th 2018 New Moon Solar Eclipse, Partial 4:58 am Central time--Sun & Moon both at 18 Leo
-July 27th 2018 Full Moon Lunar Eclipse, Total 3:20 pm Central time--Moon at 4 Aquarius/Sun at 4 Leo

--July 12th 2018 New Moon Solar Eclipse, Partial 9:48 pm Central time--Sun & Moon both at 20 Cancer
This Current Cycle of Energy is also part of the previous one:
January 31st 2018 Total Lunar Eclipse at 11 Leo
February 15th 2018 Partial Solar Eclipse at 27 Aquarius
THE SHIFT IS REAL & IS HAPPENING NOW!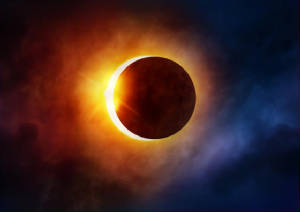 QUICK TIDBITS ABOUT THE ECLIPSE EFFECT:
--Eclipses can be felt energetically for up to 90 days before the eclipse hits (!)
--Most major eclipses trigger a new 6 month to 1 year cycle in your life--New Beginnings
--Eclipses have a way of stirring things up, bringing conflict to the surface, and kicking you into action
--A challenge, crisis or opportunity often appears for you in the areas of life that are associated with the place in your birth chart that an eclipse is hitting
--Not all eclipses will affect you the same--those eclipses that are touching sensitive points in your chart (such as making an aspect with your own natal sun, moon, or rising) will unleash the most energy for you
--In order to truly understand how an eclipse is shadowing you, and what areas of life it is trying to shed spiritual light upon for you, you must look at how it is falling within your own unique birth chart
If you would like to know more about how this current eclipse cycle will affect you PERSONALLY, including how it is activating your own unique birth chart, then you are encouraged to schedule a private Guiding Star Eclipse reading with Psychic Cynthia.
This is a special reading based on your own unique birth chart, which is created using your date, place and time of birth (if known), then placing the eclipse within your chart and seeing how it interacts with the the other planetary players in your own chart.
This can reveal what areas are most likely to be activated by this eclipse, and where the challenges and lessons are for you in the next 6 months to 1 year head, as well as the OPPORTUNITIES & GIFTS.
COST: $225 for a full hour long telephone session OR $125 for a half-hour telephone session.
To purchase, select reading length, and click on the Buy Now button below.
NOTE: For either length of reading, you also have the option of instead having an MP3 audio reading done remotely, which is where Cynthia just does the reading for you independently on her own, and then sets you up with an Mp3 audio of the file to later download online, or mails you a CD (US only). This is a great option for those who don't want to do the telephone reading or who are just too busy to schedule time to talk on the phone. If this is your preference, then just choose the "MP3 download reading" option after you have purchased your reading & when you complete your reading info form.